Retractable Ratchet Tie Down with Polyester webbing Lashing Strap
Product Description
Cargo Straps
Factory direct to you!!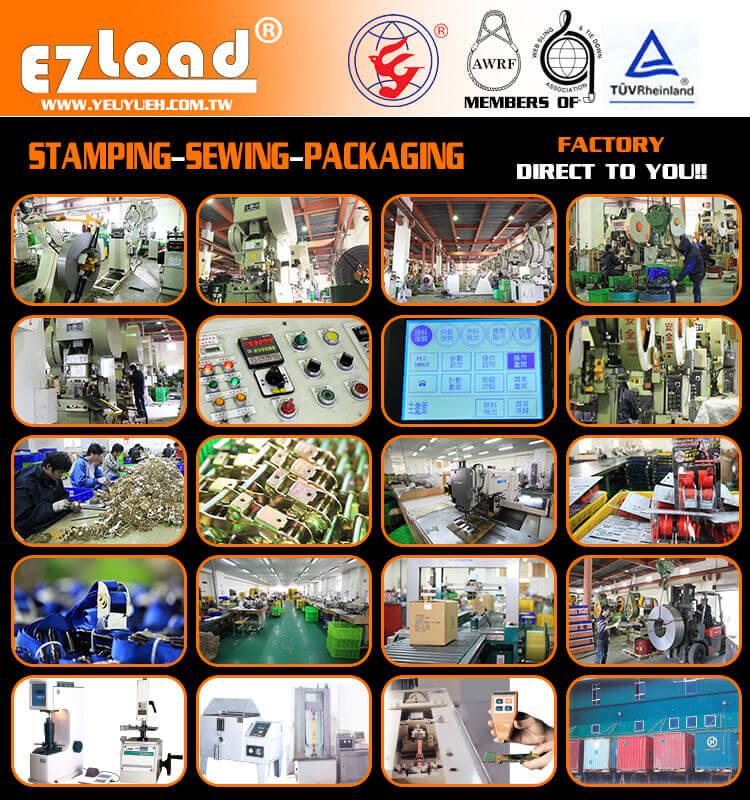 Retractable Ratchet Tie Down with Polyester webbing Lashing Strap
ASSEMBLY RATE : 1,500 LBS / 680 KGS
1. Innovative Design: integrated individual seperated patents on our retractable tie down strap
2. Webbing Retracts Automatically
3. At safe speed
4. EZ Release Integrated in retractable lashing strap
5. easy to Use
6. follows standard: EN-12195-2 & WSTDA-T-1
7. save time and labor fees
8. made from 100% polyester according to WSTDA-T-1
9. low elongation, wear-resistant, flexibility
10. suitable for road/rail/ sea/ air transportation
11. retractable ratchet strap has TUV certification
| | |
| --- | --- |
| Product Name | Retractable Ratchet Tie Down with Polyester webbing Lashing Strap |
| Retractable Cargo Strap Item Number | Y-310C (6th generation of ratchet tiedown) |
| Retractable Cargo Strap Standard | EN-12195-2 & WSTDA-T-1 |
| Retractable Cargo Strap Webbing Material | Polyester |
| Retractable Cargo Strap Length | 15 feet/ 4.5 M |
| Retractable Cargo Strap Popular Color | black, red, orange or as requested |
| Retractable Cargo Strap Storage Temperature | -40°c~100°c |
| Retractable Cargo Strap Breaking Strength | 1,500 lbs / 680 kgs |
| Retractable Cargo Strap Size | 25 mm / 1 inch |

Warnings on Retractable Ratchet Tie Down with Polyester webbing Lashing Strap :
1. not for lifting
2. inspect for damage before each use
3. Do not use damaged one
4. in the process of binding, do not twist it
5. Do not let the retractable ratchet strap tied in knots
6. avoid overload on retractable ratchet strap
7. Do not use if there are any signs of cut webbing, heat or chemical damage
8. Do not use if rated capacity tag is removed or damaged
9. Avoid any chemical solution

Packaging & Delivery
Packaging Details
Retractable Ratchet Tie Down with Polyester webbing Lashing Strap :
1. clamshell
2. Plastic board
3. green pack or as customers' request
1. bulk pack or custom made packaging.
2. we can have clamshell packaging for cam buckle straps
3. can have polybag packaging to reduce cost on packaging
4. we can have less container shippment or mixed container quantity
5. we accept customers assign forwarder
6. we accept trial order
7. we can help customer to design art work on retractable ratchet strap.
Delivery Time
45 days after recieving signed PI

More About Ratchet Tie Down Strap:
1 Inch / 25 mm Ratchet Tie Down Straps:
1" ratchet straps combine the strength of polyester webbing (Elongation Less Than 7%) in an easy-to-handle and versatile width. Choose from a range of colors(Red, Orange, Black, Camo), lengths(1.8M, 2.4M, 3.0M, 4.5M ), and hardware. Custom options are also available.

1 inch straps are versatile light duty ratchet straps for securing everything from motorcycles on trailers to cargo on a rooftop rack. The ratcheting mechanism tightens the strap quickly and securely, while TWO Finger Rleasing PATENTED EZ Release ratchet loosens it for release when ready. Since the length and strength is adjustable, 1" ratchet straps are often a better choice than bungee cords, ropes, cords, or tarp straps.

A variety of available hardware fittings also makes 1" ratchet straps incredibly versatile. Options include vinyl-coated S-hooks, wire J hooks, flat snap hooks, and more. Endless ratchet straps with no end fittings, and retractable ratchet straps are also available. We can also customize small ratchet straps with the hardware you need, or using different colored webbing, or different widths of webbing, such as 1.5"/ 38mm ratchet straps, 2" / 50mm ratchet straps, etc.

The webbing on our 1" tie down straps is a tough polyester fabric web. Because polyester has minimal stretch, absorbs very little water, and resists abrasion and damaging UV rays, it remains strong and durable even under the harshest outdoor conditions.

All of our 1" ratchet tie down straps are labeled clearly with break strength and working load limit information. Work load limit (WLL) is the maximum load a ratchet strap should be subjected to during use.
2 Inch / 50 mm Ratchet Tie Down Straps:
Our 2" flat hook ratchet strap is available in a variety length combinations. Equipped with a flat hook at the end, this ratchet/hook combination is one of the most common configurations used in the flatbed/heavy-duty trucking industry due to the strength and design of the hook.
Ratchet straps fitted with a 2" wire hook are excellent tie down equipment if your anchor spot is narrow or shallow. Also known as a 2" double j hook, wire hooks offer an excellent combination of versatility and strength.

Ratchet straps with 2" snap hooks includes a variety of hooks, including: 2" flat snap hook, 2" flat swivel snap hook, 2" twisted snap hook with special keeper & tube, 2" conversion snap hook, 2" twisted snap hook.

A 2" flat snap hook offers the benefit of a slimmer profile. A 2" twisted snap hook also has a narrow profile, but the design allows the webbing to thread through the hook so that the strap stays flat on the load. Keeping the webbing flat prevents twisting and subsequent wear and tear on the fabric. A 2" swivel snap hook rotates a full 360 degrees, so it can be fastened at a range of angles.
3 Inch / 75 mm Ratchet Tie Down Straps:
Our quality, heavy duty 3'' ratchet straps are manufactured for strength and durability. Fitted with your choice of flat hooks, wire hooks, or chain extensions, they're great for easily and quickly securing a range of cargo.

All of our 3 inch wide ratchet straps feature polyester webbing with a break strength of 15,000 lbs. The ratcheting mechanism tightens the webbing quickly, while a lift of the ratchet loosens it for quick release to unload.

A 3" ratchet strap offers the benefit of additional strength over commonly-used 2" straps, without the added weight of having to go up to a 4" tie down strap. And because the strength is adjustable with ratcheting straps, they're often a better choice than bungee cords, rope, or tarp straps to secure large loads.
4 Inch / 100 mm Ratchet Tie Down Straps:
Our 4" ratchet straps offer both versatility and strength, with a wide-designed hook, and a defender added at the slot to provide resistance to abrasions on the webbing.
Patents information on retractable cargo strap :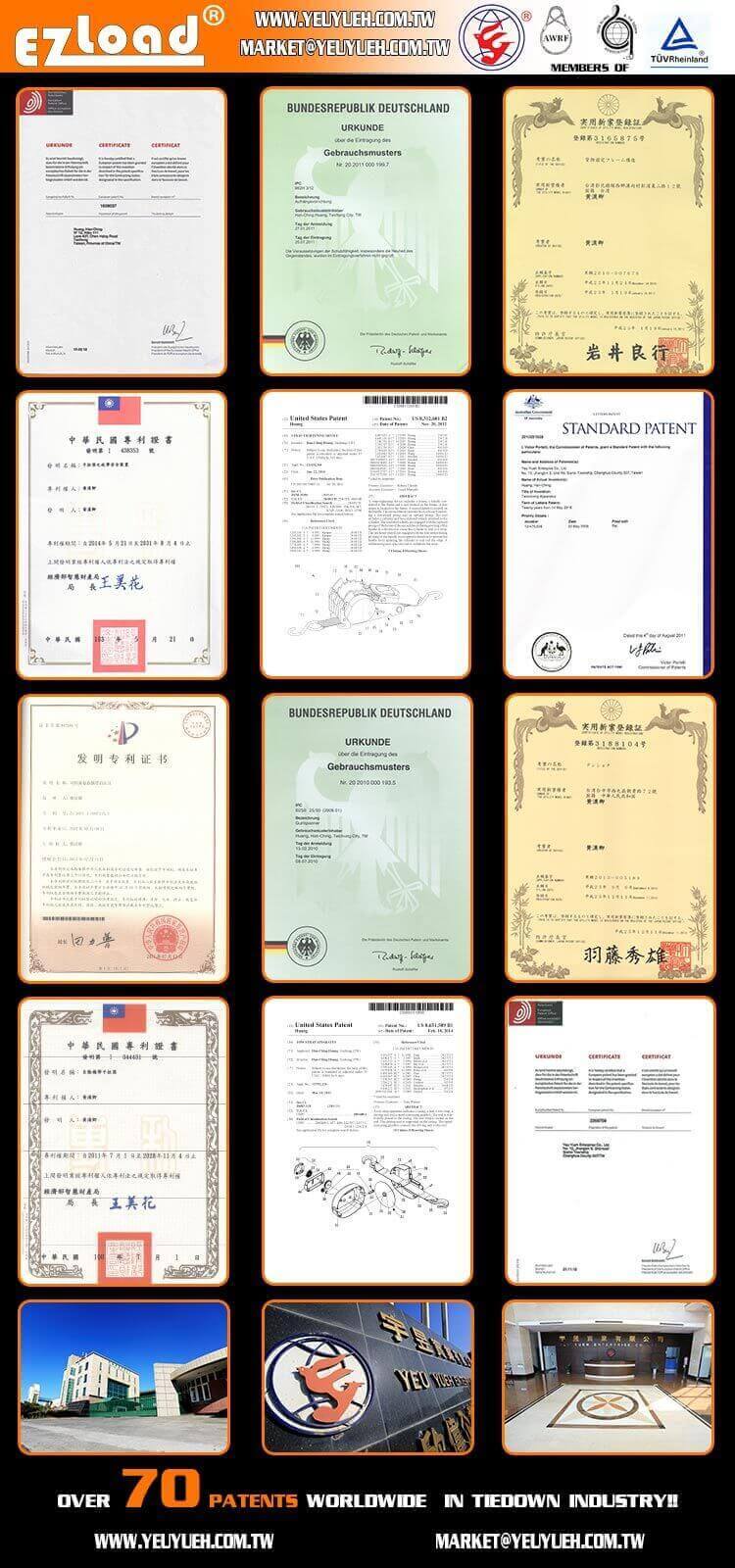 Our Services
Good Service from All Fields
1. We provide custom-made products as customers request
2. OEM is acceptable
3. Art work design is available
4. Custom made hooks
5. We have over 38 years experience in tie down industry.
6. The most comprehensive products in cargo control industry:
7. All products are coverd $2 million USD liability insurance
8. Factory direct to you
9. Strong artwork database to save your artwork design fees
10. Accept less container trial order
11. super innovative (over 70 patents worldwide)
12. helps customer to have custom-made products
13. member of WSTDA & AWRF in US
FAQ:
Q: I am interested in your products and want to get more information. What should I do next?
A: You can send you questions from Contact supplier bar located at the right hand side of the web page or simply CLICK HERE, it will take you straight to the contact us page.
Q: If I want to have custom-made products, what should I do?
A: You can send us photos to let us know what kind of products you have or you can go to our taiwantrade main site to select what hardware you need and tell us. For example: (1) hooks (2) EZ Release Ratchet buckles (3) Cam buckle.....you need on your projects. We can have custom-made products for you.
Q: Why should I buy from you?
A: We have 38 OEM and design experience. We own over 70 patents in cargo control industry. Our products are very innovative and polpular in USA and Europe, which all designed by ourselves. Also, we are the member of WSTDA and AWRF in US. Only high quality and unique products can help you dominate your market.
Q: Can you tell me what products you sell best?
A: There are several hotest and unique products. (1) EZ Release Ratchet straps (2) Ratcheting cargo bar (3) Retractable/ Automatic ratchet tie down straps. These products are sold in big chain stores in USA. For example, Walmart, homedepot, Lowe's, autozone and more.....All of them have passed product safty and sales tests in chain stores. These potential products will be very popular worldwide very soon. It's a good chance for you to dominate your whole market. If you want to have more information about your future high niche products or have some questions about them. Please contact us HERE
Q: Are those products patented?
A: Yes, they are all patented.
Q: What else you can provide for me?
A: We have prepared all artwork in our whole product line. You do not need to pay extra artwork design fee to anyone. What you need to do is send us your logo or use our logo-EZ load to save you more money.
Q: Do you attend any trade shows? Maybe I can see your products in hand.......
A: We attend national hardware show and APPEX show in Las Vegas USA annually, and Koln show and Frankfurt show in Germany every two years. Also, some trade shows in Australia, Japan, Russia and France......
Q: Can you provide us free sample?
A: Yes, we can provide one sample free of charge, but freight charges will be collected or you can provide us your USP or Fedex......account number, so we can ship free sample by under your account number.
Q: What is your production lead time?
A: Our production lead time is about 30~45days, but if we have stock, we can ship it out right away.
Q: Do you provide testing report to me before I get shippment?
A: Yes, we always provide product testing reports to our customer. Also, we can provide material certificate to you. Especially, in 304 stainless steel products. We all know that some factories use low quality 200 series stainless steel and made their customers suffer when they get complains from their customers. We only use high quality 304 stainless steel to make our products.
Q: What can you do for me?
A: We do design, stamping, sewing, and packaging. Also, ship the best quality products to you.
Q: Where are you located?
A: We are located beautiful, hermosa, bela, bello, beau, formosa TAIWAN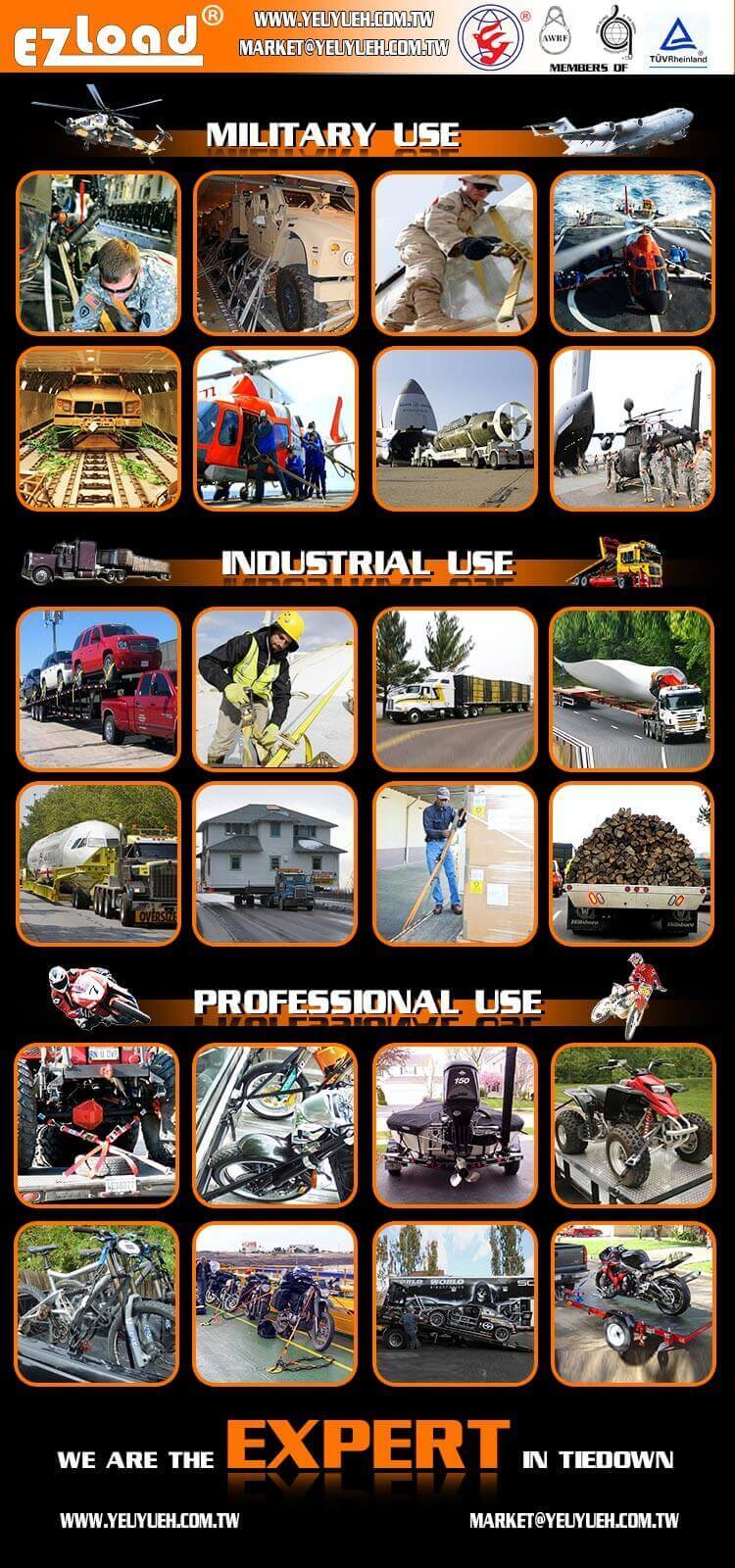 Patented retractable tie down/ automatic cargo strap
Company Information
Our company was founded in 1977
1. YEU YUEH ENTERPRISE CO., LTD. Founded in 1977, is a specialized manufacturer and exporter of tie-downs, cargo bars,lashings, and a variety of other cargo control products.
2. Combining over 30 years of professional engineering and manufacturing experience, we are capable of Retractable Ratchet Straps Home Depot & Walmart Cargo Bars Manufacturers developing new designs.
3. Obtained our own patents (U.S.A., Germany, Taiwan, China) on several products.
4. Our customers will always be our priority and are the cornerstone of our success as we endeavor to build long-lasting relationships.
5. We will be a major primary supplier of cargo control products to the North American markets, the European Community, and throughout the world and we will be recognized as a renowned specialist in cargo control products.
6. The key elements of our business will be built upon high quality products, innovation, reliable delivery, ethical business practices and value-added services.
7. Also, Yeu Yueh have invested over $2 million USD to purchase all computerized stampping machines for the best quality products
Other Products: