《Product Introduce 》:
| | | | | |
| --- | --- | --- | --- | --- |
| | Crown(mm) | Thickness (mm) | Height(mm) | Length(mm) |
| AF7043A | 10.3 (10.5 Type) | 0.3 | 4.0 - 4.1 | 7,10,12,15 |
| AF7043B | 10.8 (11.0 Type) | 0.3 | 4.35 - 4.45 | 7,10,12,15 |
Tool specification:
| | | |
| --- | --- | --- |
| Dimensions (mm) (HxWxL) | Load Capacity(pcs) | Weight(kg) |
| 200 x 70 x 225 | 300 | 1.3 |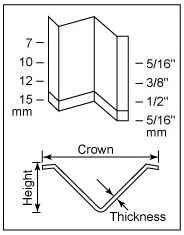 G.E.S. started the business as the purchasing agent for a North American importer on pneumatic and hand tools made in Taiwan.

In 1992, we had a chance to work with a woodworking importer and distributor in America thru the recommendation of a foreign bank for procurement of quality woodworking machine, tool and accessories.

We managed to offer coordinated packaging and ship the products with private label to boost customer's sales. With the success and business expansion, we have proven record of being a reliable supplier for over 20 years.

With our dedication to source quality woodworking tools and accessories, more and more middle and high end valuable products added to customers'product lines.

In recent years, we also offer service of contract manufacturer for products of customer's design. The subcontractors we work with are experienced and understand our quality control processes. Tooling building , product quality and shipment are strictly under our company's control.