Features of EVO ONE PIECE CAMP AXE
Forged one piece construction for increase strength and durability.
Weigh forward design to maximum chop and splitting power.
New Cutting Edge design for easy chopping.
Tempered cutting edge for easier cuts.
New Anti-Viberation & Slip Resistant Grip.
New Ergonomic Design.



AXE, HATCHET, MAUL
Until the industrial revolution changed the way goods are produced, country folk used axes and hatchets to shape a variety of household items, including bowls, spoons, chair parts, and farm implements. They also used these tools to hew logs create square beams and joinery for their houses and barns. Although few people use them this way now, modern felling axes and hatchets, along with splitting axes and mauls, are still vital tools for many back-yard and rural tasks, such as removing and pruning trees, dressing logs, and splitting firewood.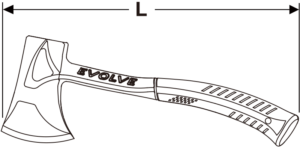 | | | | |
| --- | --- | --- | --- |
| Head Weight | Total Length (mm) | Inner Box (pcs) | Master (pcs) |
| 20oz(567g) | 350 | 6 | 36 |