Convenient high branch chain saw CK-430
.Built-in 32.4V-5AH Lithium-Ion Battery Pack
. When the built-in battery is dead, it can also be transferred to an external back battery (sold separately)
. Magnesium alloy die-casting machine frame, chain saw weighs only 4.3 kg
. Share the upper section of the controller with the mower to quickly turn the mower into a high-branch chain saw.
. Common with lawn mower shared backpack battery, one battery can have multiple uses
. Small, lightweight, low noise, high power
. Install 12-inch guide, 44-mesh chain, 1.3mm (0.05 inch) chain foot width
. Overall Dimensions: 200cm x28cm x 24cm
. Taiwan's R&D, manufacturing and quality assurance
. Motor drive direct output, no drive shaft, reduction gear, the most direct power
. The body adopts magnesium alloy material, which is lighter than aluminum alloy, and it lacks the traditional transmission shaft and reduction gear, and is lighter in use.
Comlink BLDC High-branch chain saw can share upper controller with lawn mower, Expert mode must be used when using a chain saw.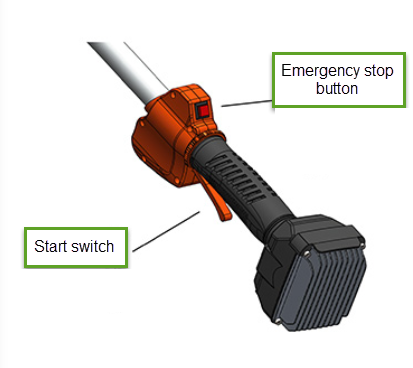 . The chain saw machine uses a switch to control the speed, and the motor automatically brakes when the start switch is released. .
. Press the emergency stop button in an emergency and the motor will start braking immediately.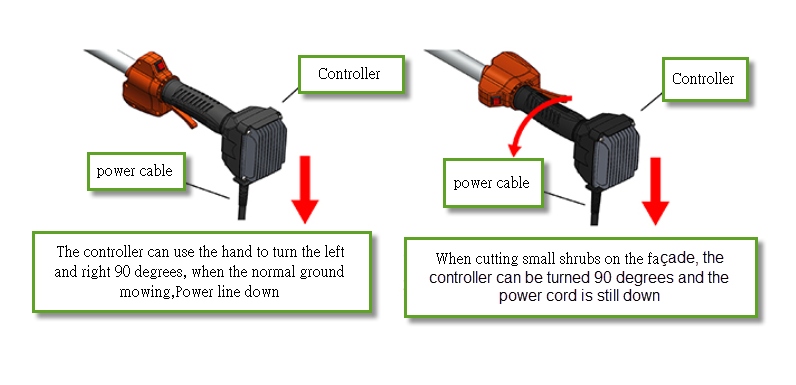 Expert mode has two stages of speed control:
◎First stage speed Intelligent control 5300rpm
◎Second stage speed Intelligent control above 6000rpm
External battery use:
When the built-in battery runs out, you can choose to connect the external battery, pull out the external battery selector switch, and then insert it in the reverse direction to connect the external battery.