Product Description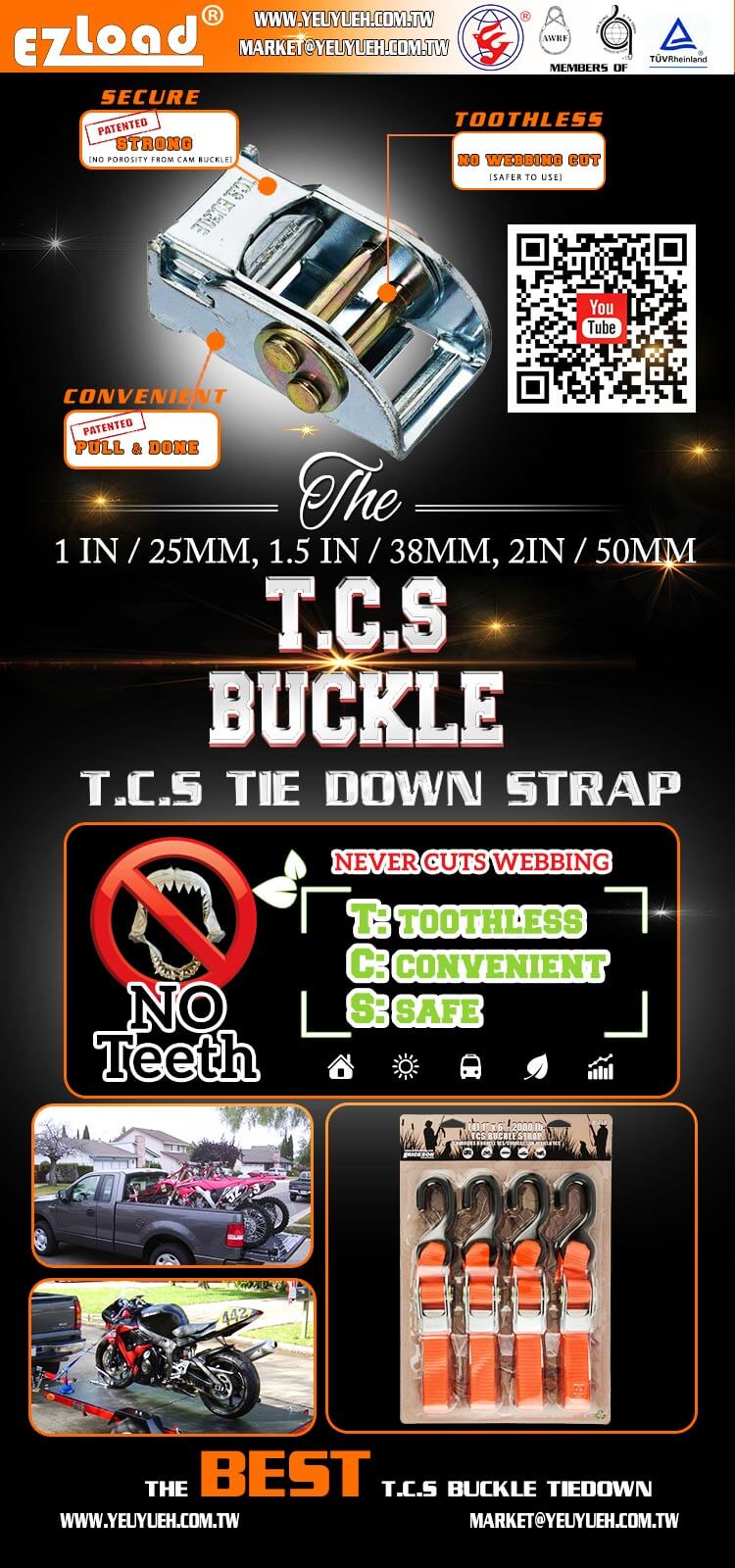 [EZ LOAD] 38mm 900KGS TCS Cam Buckle with Polyester Woven Strap :
1. Innovative Design
2. easy to pull out webbing
3. faster securing/ releasing
4. Strong structure
5. Easy to Use
6. Save time and labor fees
7. made from 100% polyester webbing or PP webbing
8. low elongation(<7%), wear-resistant, flexibility
9. suitable for regular people to use
10. can have custom-made hooks
11. webbing color can be requested
1. inspect EZ release ratchet tie down/ cargo lashing belt for damage before each use
2. Do not use damaged EZ release ratchet tie down
3. Do not let the straps tied in knots
4. avoid overload
5. Do not use the EZ release ratchet tie down if there are any signs of cut webbing, heat or chemical damage
6. Do not use EZ release ratchet tie down, if damaged
7. Avoid any chemical solution
Q: I am interested in your products and want to get more information. What should I do next?
A: You can send you questions from Contact supplier bar located at the right hand side of the web page or simply CLICK HERE, it will take you straight to the contact us page.
Q: If I want to have custom-made products, what should I do?
A: You can send us photos to let us know what kind of products you have or you can go to our taiwantrade main site to select what hardware you need and tell us. For example: (1) hooks (2) EZ Release Ratchet buckles (3) Cam buckle.....you need on your projects. We can have custom-made products for you.
Q: Why should I buy from you?
A: We have 38 OEM and design experience. We own over 70 patents in cargo control industry. Our products are very innovative and polpular in USA and Europe, which all designed by ourselves. Also, we are the member of WSTDA and AWRF in US. Only high quality and unique products can help you dominate your market.
Q: Can you tell me what products you sell best?
A: There are several hotest and unique products. (1) EZ Release Ratchet straps (2) Ratcheting cargo bar (3) Retractable/ Automatic ratchet tie down straps. These products are sold in big chain stores in USA. For example, Walmart, homedepot, Lowe's, autozone and more.....All of them have passed product safty and sales tests in chain stores. These potential products will be very popular worldwide very soon. It's a good chance for you to dominate your whole market. If you want to have more information about your future high niche products or have some questions about them. Please contact us HERE
Q: Are those products patented?
A: Yes, they are all patented.
Q: What else you can provide for me?
A: We have prepared all artwork in our whole product line. You do not need to pay extra artwork design fee to anyone. What you need to do is send us your logo or use our logo-EZ load to save you more money.
Q: Do you attend any trade shows? Maybe I can see your products in hand.......
A: We attend national hardware show and APPEX show in Las Vegas USA annually, and Koln show and Frankfurt show in Germany every two years. Also, some trade shows in Australia, Japan, Russia and France......
Q: Can you provide us free sample?
A: Yes, we can provide one sample free of charge, but freight charges will be collected or you can provide us your USP or Fedex......account number, so we can ship free sample by under your account number.
Q: What is your production lead time?
A: Our production lead time is about 30~45days, but if we have stock, we can ship it out right away.
Q: Do you provide testing report to me before I get shippment?
A: Yes, we always provide product testing reports to our customer. Also, we can provide material certificate to you. Especially, in 304 stainless steel products. We all know that some factories use low quality 200 series stainless steel and made their customers suffer when they get complains from their customers. We only use high quality 304 stainless steel to make our products.
Q: What can you do for me?
A: We do design, stamping, sewing, and packaging. Also, ship the best quality products to you.
Q: Where are you located?
A: We are located beautiful, hermosa, bela, bello, beau, formosa TAIWAN