Features:
♦Designed with interchangeable threaded inserts that can be easily changed as needed.
♦The variety of heads makes this versatile tool for various metal working tasks, installation of funiture & Auto parts and is a handy and practical tool for jewelry and hobby work.
♦Interchangeable Tips: Acetate, Nylon & TPR.
♦Soft faces deliver a solid strike without damaging work surface.
♦Lightweight tubular steel handle shifts the weight balance toward head for extra power in each blow.
Hammer Head Material: Zinc Alloy

Hammer Tips Material:
○NYLON Tip / Hardness : 60~70 Shore D
●TPR Tip / Hardness : 30~40 Shore D
●ACETATE Tip / Hardness : 75±5 Shore D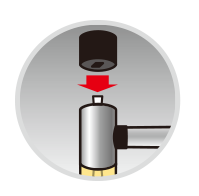 | | | | | |
| --- | --- | --- | --- | --- |
| Head Weight | Head Weight | Total Length | Inner Box (pcs) | Master (pcs) |
| 16 oz | 454 gm | 314 mm | 6 | 24 |